News & Events
December 30, 2013 — Clarksville Regional Airport has a new point of destination for online visitors in 2014. The airport added to its recent rebranding efforts by launching a new website. The website is aimed at attracting new visitors to the airport, whether they are just passing through Clarksville or here for an extended stay.
You can visit the airport online at www.clarksvilleregional.com.
May 1, 2013 —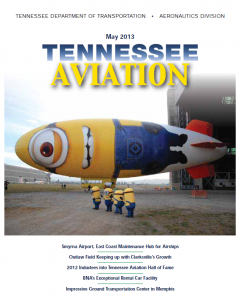 Recently released census figures show Clarksville as being the second fastest-growing metropolitian statistical area (MSA) in the nation from 2011 to 2012. Outlaw Field certainly is making every effort to ensure that aviation in Clarksville is keeping up with that growth. Airport Manager John Patterson is a mover and shaker, and under his guidance, Outlaw Field is becoming a major player in the community. "In order to survive, you have to get involved in the community," he said. Patterson is a spokesperson for the airport in schools, businesses, organizations, anywhere he is asked to go.
The new $4.85 million terminal also is generating more community involvement with the airport. The multi-media center is a big source of revenue. It is fully-equipped with the latest technology including Wi-Fi. It also has a catering room, a full bar area and holds 100 people and is rented out for conferences, training sessions and meetings.
One of Outlaw Field's neighbors and associates is Fort Campbell. The army base is home to the 101st Airborne; their aviators utilize the airport on a daily basis. They practice take offs, landings and parachuting. The 160th Special Operations Aviation Regiment (Airborne) also referred to as "Night Stalkers" runs special ops helicopter drills. The Night Stalkers are an elite unit known for using night-vision and infrared devices. Their top-notch pilots fly at very low altitudes and high speeds.
In addition, the U. S. Army Golden Knights Parachute Demonstration Team do tandem jumps with Gold Star families. A Gold Star Family is one who has lost a spouse, parent, sibling or child serving in the military. Special Forces also practice parachute maneuvers over the airport.
In liaison with other local businesses, Patterson has set up a joint training initiative at the airport with the Clarksville-Montgomery County School System. Math and science teachers will participate in a summer externship in various work settings in preparation for making their subjects in the classroom relative to real life. As he pointed out, daily activity at an airport encompasses many subjects — fuel management, accounting, grants, retail, customer service and more.
In conjunction with North Central Institute, the airport is planning a huge community day on October 5. "Just Plain Fun Days" will feature food vendors, large inflatables for the kids, band, static display and more.
Patterson wants to see it get bigger and better with more public involvement including the Industrial Development Board and the Chamber of Commerce. Not only is Outlaw Field increasing community relations, it also has an increase in traffic and fuel sales. They had 4,686 flights through January. Of military, privately owned and corporate flights, the greatest increase was in corporate. Fuel sales went to $82,700. "Where we compete is in services and facility; every airport has a runway," Patterson commented.