News & Events
November 21, 2014 — Former Tonight Show host and legendary comedian Jay Leno used the Clarksville Regional Airport on his way to a special surprise visit to a wounded warrior at Ft. Campbell. Jay surprised Cpl. Ethan Laberge with a surpise visit and an amazing gift. Check out the video from the Today Show below.
July 8, 2014 —

CLARKSVILLE, Tenn. — Clarksville Regional Airport (KCKV) announced today it has completed the bid selection for a $3.2 million apron improvements package that will greatly expand the airport's accessibility and aircraft parking capabilities. The improvements include a completely reconstructed apron area with two new helicopter landing pads, a new tie down area supporting 55 aircraft and structural improvements to the apron design that expand the airport's service capabilities.
Clarksville Regional has selected HMA Contractors as the tentative contract winner for the $3.2 million project, pending verification that the bid response meets final engineering specifications. Construction on the project is set to begin immediately and be completed within 110 days. The Airport will remain fully operational during the construction, which will occur in five phases through October. Phasing the project will allow the airport to continue to support and service aircraft and minimize impact to existing operations.
Ninety-five percent of the funding was made possible through a grant from the Tennessee Department of Transportation Aeronautics Division, with the remaining five percent funded from the City of Clarksville and Montgomery County governments. The project specifications included cost savings measures that allow for the greatest expansion of Clarksville Regional's capabilities for the lowest cost. For instance, the existing stone under the current apron will be reused in non-weight critical areas and none of the current apron materials will be wasted or leave the airport. Excess demolition materials from the improvement project will be used in the control access road connecting the airport to the Tiny Town Road Fire Station, which provides immediate access for fire protection to access the airfield, a key factor in any future expansion of the airport's capabilities and a goal of airport's strategic plan.
"The Tennessee Department of Transportation and the Aeronautics Division is proud to support Clarksville Regional Airport's improvement aspirations," said Director of Tennessee Aeronautics William B. Orellana. "These apron improvements support the beautiful new terminal and the potential for increased activity at the Clarksville Regional Airport."
The apron improvements will greatly enhance space utilization, correct drainage issues and will expand the weight-bearing capabilities of the apron to match that of the runways. The new apron will be divided into three weight-bearing categories, minimizing the cost of design and construction. The first area located in front of the terminal building and extending north will support heavy aircraft with the ability to support weight of 90,000 lbs. per dual wheel. A medium weight area will support taxing and parking for aircraft up to 60,000 lbs. per dual wheel. Finally, two concrete helicopter landing pads will support heavy skidded helicopters that cannot land on asphalt.
"We are seeing a trend towards larger aircraft utilizing the airport and these improvements will support those craft and our future needs," said Clarksville Regional Airport Director John Patterson. "We will continue to provide more travelers the highly-rated, responsive and professional service that the flying community has come to expect from Clarksville Regional Airport."
Apron improvements add to recent accomplishments announced by the airport including a new terminal, new airport branding, an upgraded website and new flight school capabilities, which greatly expand the Airport's ability to attract corporate travelers, provide chartered flight service for corporate and personal travel and support recreational flying.
"This improvements package is a critical step supporting Clarksville Regional Airport's long-term strategic goals. The specifications for the apron improvements package was designed with expansion in mind, both with regard to physical presence as well as future capabilities," remarked Sammy Stuard, chairman of the Clarksville Montgomery County Regional Airport Authority. "The airport is taking critical steps to serve both the residents and businesses of Clarksville well into the future."
May 7, 2014 — The Clarksville Police Department's Chaplain Program will hold its annual fundraiser luncheon at the Clarksville Regional Airport on Saturday, May 24, from 11:00 a.m. – 1:00 p.m.
$10 adult tickets and $8 child tickets can be purchased at the Airport prior to the event (checks only). Snow White will be on site for pictures with the kids. ALL proceeds go back to the community through aid to families and victims in need.
May 2, 2014 — Becoming a licensed pilot just became easier for would-be flyers in the Clarksville and Fort Campbell area. The Professional Aeronautics Academy now offers a complete professional pilot licensing program and individual flight lessons at Clarksville Regional Airport.
The arrival of PAA at Clarksville Regional is an exciting partnership opportunity for both the school and the city of Clarksville.
"The airport is always looking for positive ways to impact the community," said Clarksville Regional Airport Director John Patterson. "PAA brings a very comprehensive service to the airport that will greatly benefit those seeking a professional aeronautics curriculum. We're confident that we are entering a long-term relationship that really broadens the scope of what we offer."
Tammy Stanford, director of training at PAA, shares Patterson's sentiments.
"The airport has been extremely welcoming to PAA," said Stanford. "The staff has been very accommodating to us and they have a strong culture of professionalism. We are glad to be located in such a beautiful facility that will enhance the experience of our students and instructors. "
PAA programming is open to both military and civilian students. Most local students are active duty military who have some aviation experience and are looking for either initial flight training or are Fort Campbell based helicopter pilots who want to gain certification to fly commercial fixed-wing aircraft.
The program is supported by the Mountwest Community and Technical College headquartered in Huntington West Virginia. Classes run on a typical semester schedule and are offered in the fall, spring and summer.
Prospective students must score a 110 on the ASVAB military entrance exam or a 21 on the ACT college entrance exam to be considered for the program. Many students are eligible to use their Post 9-11 GI Bill benefits to complete the program.
"We're very concerned with the finished product," Jamie Parrish, PAA's lead flight instructor. "PAA promotes a culture of safety; therefore our students go through a very selective process."
The curriculum typically takes three to nine months to complete, and is dependent on the level of licensure the student is seeking and their past experience. There is both classroom and flight time required of students. However, some classroom time is offered online.
"PAA's curriculum is uniquely designed and not only qualifies students, but gives them the experience to be competitive at the regional airline level. A student completing the required courses walks away with exactly what regional airlines are looking for in a new hire," said Jamie Parrish.
PAA instructors are available to fly 7-days a week to help their students get in the required flight hours for their certification. All flights originate from Clarksville Regional in either PAA's single-engine Cessna 172 and Cessna 172 RG aircraft or twin-engine Piper Seneca PA34-200.
"Our students learn on aircraft that meet high performance, multi-engine and complex requirements of the FAA for commercial pilots," said Parrish. "You can come to PAA with zero experience and leave qualified to fly professionally in any single or twin engine plane."
Not only do PAA students enter the job market prepared to go to work, but they are often distinguished from students in other training programs because of the additional flight time requirements. In fact, according to Parrish, the extra hours of flight time required by PAA help students immediately meet insurance requirements for commercial pilots and which "gives PAA students an edge when competing for jobs."
"There are a lot of flight schools out there that can help you meet the minimum standards, but PAA strives to produce higher quality pilots," said Patterson. "The students that they're sending out into the job market are prepared and competitive. We're glad to have them onsite at Clarksville Regional."
PAA is accepting new student applications through May 3 for the summer semester. For more information about PAA programs or to apply, call 931-801-0687 or email Stanford@paero.org.
December 30, 2013 — Clarksville Regional Airport has a new point of destination for online visitors in 2014. The airport added to its recent rebranding efforts by launching a new website. The website is aimed at attracting new visitors to the airport, whether they are just passing through Clarksville or here for an extended stay.
You can visit the airport online at www.clarksvilleregional.com.
May 1, 2013 —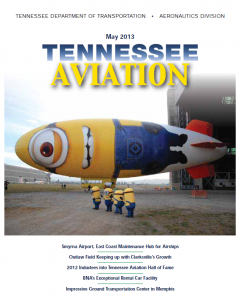 Recently released census figures show Clarksville as being the second fastest-growing metropolitian statistical area (MSA) in the nation from 2011 to 2012. Outlaw Field certainly is making every effort to ensure that aviation in Clarksville is keeping up with that growth. Airport Manager John Patterson is a mover and shaker, and under his guidance, Outlaw Field is becoming a major player in the community. "In order to survive, you have to get involved in the community," he said. Patterson is a spokesperson for the airport in schools, businesses, organizations, anywhere he is asked to go.
The new $4.85 million terminal also is generating more community involvement with the airport. The multi-media center is a big source of revenue. It is fully-equipped with the latest technology including Wi-Fi. It also has a catering room, a full bar area and holds 100 people and is rented out for conferences, training sessions and meetings.
One of Outlaw Field's neighbors and associates is Fort Campbell. The army base is home to the 101st Airborne; their aviators utilize the airport on a daily basis. They practice take offs, landings and parachuting. The 160th Special Operations Aviation Regiment (Airborne) also referred to as "Night Stalkers" runs special ops helicopter drills. The Night Stalkers are an elite unit known for using night-vision and infrared devices. Their top-notch pilots fly at very low altitudes and high speeds.
In addition, the U. S. Army Golden Knights Parachute Demonstration Team do tandem jumps with Gold Star families. A Gold Star Family is one who has lost a spouse, parent, sibling or child serving in the military. Special Forces also practice parachute maneuvers over the airport.
In liaison with other local businesses, Patterson has set up a joint training initiative at the airport with the Clarksville-Montgomery County School System. Math and science teachers will participate in a summer externship in various work settings in preparation for making their subjects in the classroom relative to real life. As he pointed out, daily activity at an airport encompasses many subjects — fuel management, accounting, grants, retail, customer service and more.
In conjunction with North Central Institute, the airport is planning a huge community day on October 5. "Just Plain Fun Days" will feature food vendors, large inflatables for the kids, band, static display and more.
Patterson wants to see it get bigger and better with more public involvement including the Industrial Development Board and the Chamber of Commerce. Not only is Outlaw Field increasing community relations, it also has an increase in traffic and fuel sales. They had 4,686 flights through January. Of military, privately owned and corporate flights, the greatest increase was in corporate. Fuel sales went to $82,700. "Where we compete is in services and facility; every airport has a runway," Patterson commented.